Cloud Mountain Inn and Ski Palace
Hours of operation for the Ski Palace Sales and Rentals are 9-5 daily
we will be open everyday including Christmas and New Years.
We will be open on all winter holidays and during spring break.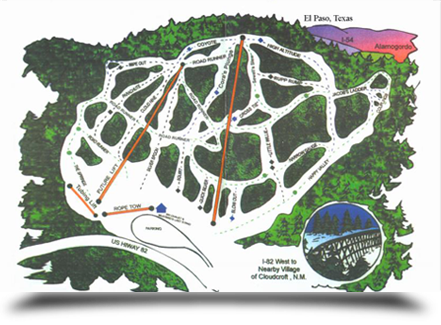 Welcome to Ski Palace, located in Cloudcroft, NM. Ski Palace has been serving Cloudcroft and the surrounding areas for more than 30 years.
Let us provide you and your family with all the winter snow play products and clothing to make your vacation enjoyable. We carry a full line of rental equipment including, Inner Tubes, Disks, Snowboards, Skis (Downhill & Cross-country) and much more. Going Skiing at Ski Apache but staying in Cloudcroft? We will fit you with skis the night before so you can get an early start the next morning.
The picture to the right is Trails at Ski Cloudcroft.
The picture at the top of each page is not a picture of our location or facilities.
The picture at the bottom left is a picture of our location.
Forgot warm clothing? No worries, we've got what you need. With the option to purchase or rent, we have a full line of clothing including Bibs, Boots, Jackets, Gloves, socks and Long-Underwear.
If your vacationing in Cloudcroft, the Ski Palace is where it's happening! Don't miss out!
View Equipment Rental Info
Take a look at the price list to rent our equipment.
Current Snow Conditions
Last updated on 1-.21-2017
Tubing and Sledding conditions are EXELLENT!
At upper Karr Canyon.
X-Country ski conditions are EXELLENT!
We Received 8" NEW SNOWFALL ON 1-21-17
6" New SNOWFALL on 1-18-17
6" NEW SNOWFALL ON 1-15-17
2" snowfall on 1-6-17!
6" SNOWFALL ON 1-1-17!
we have received two inches of new snow on 12-31-16.